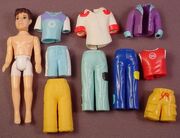 Todd is Rick's best friend. He is one of the few characters who never made a TV appearance.
Appearance
Edit
Todd has dark brown hair and brown eyes. He has a modern style of clothing, including baggy pants, jeans, and t-shirts.
Like Kerstie in 2013, Todd was discontinued in 2008. It's not known if he was meant to be a love interest for any of Polly's friends or if he was related to them in any way. So far, he and Rick were the only male dolls in the franchise.
Ad blocker interference detected!
Wikia is a free-to-use site that makes money from advertising. We have a modified experience for viewers using ad blockers

Wikia is not accessible if you've made further modifications. Remove the custom ad blocker rule(s) and the page will load as expected.