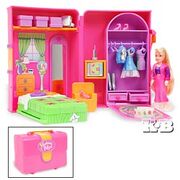 The Super Stylin' Bedroom was a travelling set and one of the first sets made in 2000.
The set was a single bedroom meant to be Polly's. It had a bed with a door to store three boxes, one with a roll of stickers, and a closet to hang up Polly's clothes and bookbag. The closet comes with two drawers, which can hold the shoes or the hair brush and hand mirror. Next to it is a computer with a rotating dial to go from the computer, Polly's secret diary, and a mirror with makeup and a computer chair.
Accessories
Edit
In this set, Polly only has three outfits to choose from. She has a purple dress, a blue-and-silver dress, a blue-and-silver jacket to go with it, silver boots, a silver bookbag, a pink-and-purple skirt, a pink-and-purple shirt, and pink shoes. In one of the drawers are a mirror and a hair brush for Polly.