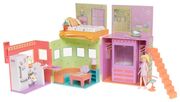 The Sparkle Style House is one of the first houses in the Fashion Polly line.
The house has two stories and a set of stairs leading the second floor. There are two cardboard backdrops for the two rooms on the second floor, for the bedroom and the room by the stairs. There is a total of five rooms in the house, including a bathroom hidden behind the Glitterific Closet.
Polly's bed has three tubes under the plastic cover: one is glue, which is applied to the clothes, one is pink glitter, and the last one is blue glitter. The sparkle set is a box with two different tyes of hangers for clothing and pillow covers. On either side of the sparkle set is room for clothing with twelve different hangers.
Accessories
Edit
There are multiple accessories in this house, mostly clothing. There is a yellow long-sleeved shirt, yellow pajama shorts, blue dress, orange robe, green tank top, green shorts, green shoes, pink dress, and pink shoes. There are several large pillows in blue, yellow, orange and pink and two round pillows for the stool. In addition to the mentioned accessories, there are two lamp shades for the table top lap in Polly's bedroom.
The set includes a Russian blue cat in its own basket and a pink pillow. The oven has a roll of stickers, which can be placed on the plates or the pot. There is a table with two sides on it and a telephone with a hook to place in. When the house is closed up, a cutout of the driveway can be placed beside it.