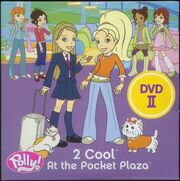 Polly Pocket 2: Cool at the Pocket Plaza
is the second Polly Pocket movie. It was released direct-to-DVD in 2005.
Mr. Pocket opens a new hotel, the Pocket Plaza, also known as the Plaza Hotel in New York City. There is a new English friend, Pia Pocket, an identical cousin of Polly, who dreams of being a great rock star. Polly's father is held up at an airport in Indonesia and Polly now has to present the hotel opening.