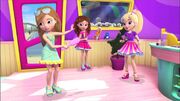 Party's Party Problem is the 1st episode of Pollyville.
Lila and Lea moved into the same house in Pollyville. Lila is from the city as Lea is from the country. Polly plans to throw the best Welcome Home Party for both of them, but neither Lil and Lea agreed that Pollyville be their home. Polly then takes them to the Pizza Parlor to see Rick and decide to get pizza, but Lila and Lea don't agree in the toppings. Lila listens to music as Lea listens to animals as Polly takes them to the salon. Lea decides to brush the animals' fur as Lila decides to brush her hair. Polly takes them to see Crissy, who was busy making a sculpture out of Mashed Potatoes. Lila and Lea don't agree on the masterpiece they should make. Then Polly decides to ask Shani if she can solve their problems, but sadly, she couldn't. Polly then takes them to the bakery where the baker is Kerstie, but Lila and Lea don't agree on the dessert they choose. They then try on different hats, have a picnic, (Lea chooses small flowers as  Lila chooses big flowers.) They went to the Shoe Shop, but don't agree on the shoes they should wear. At the Dress Shop, Lila and Lea don't agree on the dresses they like. Polly, Lila and Lea then became tired after the big day. Lila and Lea both agreed that it was the best day ever. When the door opens at their house, Polly completely forgets about the Welcome Home Party, so she, Lila and Lea agreed to turn the Welcome Home Party to a Slumber Party.
Ad blocker interference detected!
Wikia is a free-to-use site that makes money from advertising. We have a modified experience for viewers using ad blockers

Wikia is not accessible if you've made further modifications. Remove the custom ad blocker rule(s) and the page will load as expected.