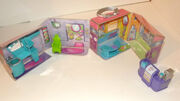 The Polly Pocket Beauty Salon is a portable set with three different sections.
The Beauty Salon
Edit
The design of the salon is set up like a hair salon. it has four hooks for any hats, handbags, and whatever the dolls has brought with them. It has a chair that can recline into the sink, which can be filled with water. There is also a cloak that the doll can wear for this section. The sink has two moveable drawers that can hold hairbrush. Across from the sink is a chair with an attached hair dryer that can be moved. 
The Store
Edit
The store has a moveable flap with a cash register attached to it. When being folded up, it can be tucked inside the store. It has a rack that can hold multiple clothes. It also has three shopping bags, two purses, and two hats of different colors and sizes. Unlike the other departments, it has a "window", which can look out to the beauty salon. 
Like the store, the cafe has a counter that can swing out and be tucked inside when being folded up. It has a built-in register and smoothie machine. It has a blender attached to it, which can be removed and held by the dolls. It has a table with two indentations for the cups and two chairs that come with it. 
This set comes with two dolls, Lila and Polly. Lila starts in the beauty salon and is the only doll with color-changing blue highlights in the set. Her style for this is traditionally purple anything.
Polly is set in the store department. As mentioned with Lila, Polly doesn't have highlights, but can still go into the beauty salon since she has nylon hair.
Accessories
Edit
Most of the accessories are kept in the clothing store. The ones included are a pink-and-orange jacket, pink jeans, a pink-and-orange top with frills, a pink-and-orange skirt, orange shoes, an aqua-and-purple dress, an aqua-and-purple jacket, an aqua skirt with a purple hem, aqua shoes with purple lining, a purple shirt with pink neckline, purple-and-pink shorts, a strapless purple-and-pink swimsuit, and a purple skirt. There are also two hats (pink and orange), a pink-and-yellow purse and a purple purse with pinks spots.